DR. UJJWAL K. DATTA, DPM, FACFAS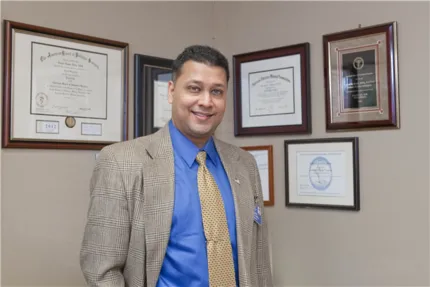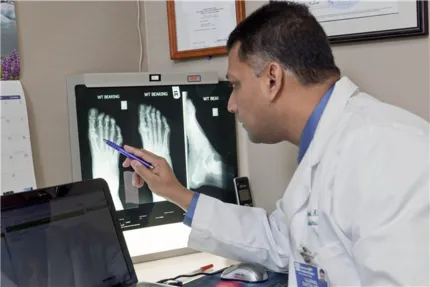 Dr. Datta graduated cum laude with Bachelor of Arts from Hunter College, New York in 1996. Thereafter he enrolled in New York College of Podiatric Medicine from where he graduated in 2000 and earned his degree as Doctor of Podiatric Medicine (DPM). Dr. Datta completed his residency training at Jamaica Hospital Medical Center, New York in 2003, which included his podiatric surgical training.

During his undergraduate education at Hunter College, Dr. Datta authored and co-authored several published scientific journals, which continued during his years at New York College of Podiatric Medicine. Dr. Datta was also recognized by the New York State Podiatric Medical Association for his volunteer work at Ground Zero during the unfortunate tragedy of September 11, 2001.

Dr. Datta is Board Certified in Foot Surgery by the American Board of Foot & Ankle Surgery (www.abfas.org) and is a Fellow of the American College of Foot & Ankle Surgeons (www.acfas.org). He is also a member of the American Podiatric Medical Association (www.apma.org) and the New Jersey Podiatric Medical Society (www.njps.org). Dr. Datta also served as a lecturer and an associate professor in the Dept. of Biological Sciences at Hunter College for several years lecturing in Anatomy & Physiology.

Dr. Datta is an attending at Raritan Bay Medical Center (www.rbmc.org) and is associated with their Internal Medicine Residency Program. Internal Medicine Residents regularly rotate through Dr. Datta's office to learn about all aspects of podiatry. Dr. Datta is very active in Medical Grand Rounds Lecture Circuit at Raritan Bay Medical Center and has lectured on several occasions on topics such as Diabetic Neuropathy, Diabetes and Peripheral Arterial Disease, The Diabetic Foot, Diabetic Foot Ulcers and many other important topics pertaining to Diabetes and Foot Health and Diabetic Foot and its complications.

Dr. Datta routinely attends podiatric medical conferences each year as part of Continuing Medical Education to keep himself up-to-date & knowledgeable regarding advances in his field of medicine so that he can provide the best possible care for his patients.

Dr. Datta has been featured multiple times and his articles published in local newspapers and has also been interviewed by radio stations multiple times. A few of his interviews can be found by clicking the Health Navigator and Foot Health buttons on the homepage.

Dr. Datta is certified in Extra Corporal Shock Wave Therapy (ESWT)-an innovative, in-office, non-invasive treatment modality to treat patients suffering from chronic heel and arch pain as well as being a Certified Surgeon specializing in Extra Osseous Talo Tarsal Stabilization (EOTTS) procedure to correct overpronation, heel pain, and flat feet.

Dr. Datta also gives back to the community as he provides free foot screenings and lectures on foot health at a local temple in his community where he also serves on the medical panel.


Articles by Dr. Datta:
Heel Pain Article: